Posts for: April, 2018
By Candler Dental
April 22, 2018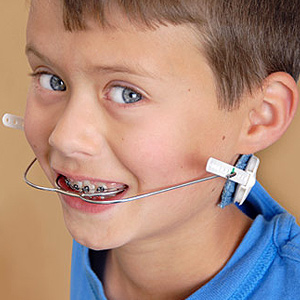 Most of us are quite familiar with what traditional braces look like. But occasionally we see more complex-looking devices being worn by young orthodontic patients: thicker wires that extend outside the mouth, with straps that may go behind the neck or over the chin. What are these devices, and why are they sometimes needed?
In general, orthodontic appliances with external parts braced by the head, neck or chin are referred to as "headgear." These devices may be used to handle a number of particular orthodontic situations, but they all have one thing in common: They provide the additional anchorage needed to move teeth into better positions.
It may come as a surprise that teeth, which seem so solid, can actually be moved fairly easily over time. This is because teeth are not fixed directly into bone, but are instead held in place by a hammock-like structure called the periodontal ligament. Using a light, controlled force — such as the force of springy wires and elastics in traditional braces — teeth can be moved slowly through the jaw bone, like a stick being pulled through sand.
Of course, to pull a stick through sand, you need a firm anchorage — your legs, for example, bracing against a rock. Most of the time, the back teeth, with their large, multiple roots, provide plenty of support. But sometimes, the back teeth alone aren't enough to do the job.
If a very large space between teeth is being closed, for example, the back teeth might be pulled forward as the front teeth are pulled back; this could result in poor alignment and bite problems. In other cases, the front teeth may need to be pulled forward instead of back. The back teeth can't help here; this is a job for headgear.
Some types of headgear have a strap that goes behind the head or neck; they use the entire head as an anchorage. Other types, called "reverse pull" headgear, have a strap that comes over the chin or the forehead; they can pull teeth forward. Headgear can even influence the proper growth of facial structures — that's why it is usually seen on preteens, whose growth isn't yet complete.
Headgear is usually worn for 12 hours per day, for a limited period of time. In some cases, rather than headgear, appliances called "temporary anchorage devices" (TADS) may be recommended. These are tiny screws that are implanted into the jawbone in a minimally invasive procedure, and serve a similar function.
While it may not look pretty, orthodontic headgear is capable of moving teeth into their proper positions in a relatively short period of time — and ending up with a great-looking smile is what orthodontics is all about.
If you have questions about orthodontic headgear, please call our office to schedule a consultation. You can read more in the Dear Doctor magazine article "Moving Teeth With Orthodontics."
By Candler Dental
April 12, 2018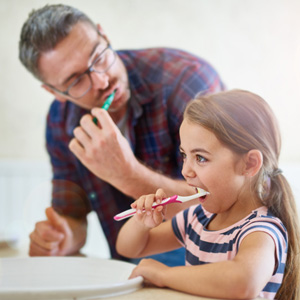 Philosopher Will Durant wrote, "…We are what we repeatedly do. Excellence, then, is not an act but a habit." While that observation could aptly apply to a great deal of life, it's certainly true of dental health. Strong, healthy teeth and gums are largely the result of good oral habits started in early childhood.
Here are some important dental care habits you'll want to instill in your child, as well as yourself.
Practice and teach daily oral hygiene. Keeping your child's mouth clean helps prevent future dental disease. It should begin before teeth appear by wiping your baby's gums with a clean, wet cloth after every feeding to keep decay-causing bacteria from growing. Once teeth appear, switch to brushing with just a smear of toothpaste until age 2, when you can increase to a pea-sized amount. As your child matures, be sure to teach them to brush and floss for themselves, especially by modeling the behavior for them.
Begin dental visits early. Besides daily hygiene, regular professional dental care is one of the best habits for keeping healthy teeth and gums. Plan to begin your child's dental visits by age 1 when some of their teeth may have already come in. And by beginning early, it's more likely your child will view dental visits as a routine part of life, a habit they'll more likely continue into adulthood.
Keep your oral bacteria to yourself. Many strains of bacteria, especially harmful ones, don't occur spontaneously in a child's mouth. They come from the outside environment, most often from their parents or caregivers. To avoid transmitting disease-causing bacteria from you to your baby don't share eating utensils, don't lick a pacifier to clean it, and avoid kissing infants (whose immune systems are immature) on the mouth.
Encourage your teenager to avoid bad habits. Hopefully when your children reach adolescence, they've already developed good oral habits. But there are some bad habits you should also help your teen avoid. While piercings are a popular expression among this age group, teens should avoid tongue and lip bolts and other piercings that could damage teeth. A tobacco habit can also have negative consequences for dental health including increased decay or gum disease risk and cancer.
If you would like more information on dental care for children, please contact us or schedule an appointment for a consultation. You can also learn more about this topic by reading the Dear Doctor magazine article "Dentistry & Oral Health for Children."